In preparation for the new shaped pound coin which will enter circulation in March 2017, we have the new pound trolley coin keyrings ready to order now! We also have lots of other branded merchandise ideas relating to money campaigns, so get in
contact
for more ideas. The current £1 coin is being replaced for the first time in over thirty years because it has become vulnerable to sophisticated counterfeiters. Approximately one in thirty £1 coins in circulation today is a counterfeit. The introduction of this new, highly secure coin is set to reduce the costs of counterfeits to businesses and the taxpayer.
The new 12 sided £1 features a new design that shows the English rose, the Welsh leek, the Scottish thistle and the Northern Irish shamrock emerging from one stem within a royal coronet. This was created by David Pearce who won a public design competition at the age of 15. The coin's design reflects the United Kingdom's heritage and craftsmanship. The fifth coinage portrait of Her Majesty the Queen designed by Jody Clark is also featured on the coin.
Don't get left behind, order your new shaped trolley coin keyrings now!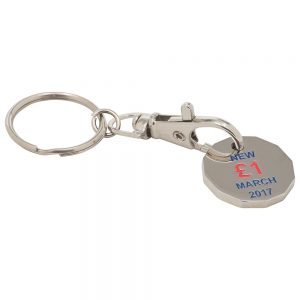 The new £1 shaped trolley coin keyrings are ready to order now, perfect for trips to the supermarket and the gym. Get ahead of the game and get your logo printed on a useful piece of promotional merchandise. Research by the BPMA shows that people will keep hold of branded merchandise that is useful and act as a constant reminder of your brand. A perfect event giveaway, gift to new customers or ideal to support any money related campaigns.
Contact us for a quote