Promotional Cotton Shoppers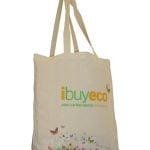 Cotton tote bags are a winner. A bestseller; the promotional cotton bag is good value for money, it's reusable and recyclable giving an eco twist to your marketing campaign. The range has subtle differences such as weight of cotton (the thickness), handle length and certifications so keep an eye out on the descriptions for more details.
Cotton is a fast-growing material which has led to its reputation as a sustainable material. We are proud to supply GOTS certified cotton bags, Fairtrade cotton bags and recycled cotton bags amongst the range.
A reliable choice if you are looking to upgrade from single-use carrier bags. All our bags can be printed with your company logo or artwork design, many of them in full colour to achieve really striking designs.