Stuart Fry our Corporate Sales Manager is celebrating his 25th year in the merchandise industry, so we thought we would have a chat with him to see how the last 25 years have been.
How did you get started in the merchandise industry?
"I was working as a door to door salesman, selling photo copiers and fax machines. I was unhappy in my current role and I stumbled across an advert for a Sales rep working in the Merchandise Industry. I went for the job and I have never looked back".
What have been your most memorable moments?
"There have been a lot of memorable moments but one highlight that stands out in particular is my trip to Hong Kong and Taiwan in 1993. I spent 11 days visiting some of our suppliers in the Far East. The trip was a real eye opener and I also got to do some sightseeing, which was a bonus!"
How has the industry changed?
"The range of products and suppliers has increased massively. The turnaround time is now much quicker. We can now get certain items turned around and delivered in 3 days. Back when I started the standard lead time used to be 4-5 weeks on most products. A fast delivery was 2-3 weeks. All orders were faxed or phoned through and the artwork was sent to us via post. I had to drive the artwork to the designers if I needed to make any amendments. The pace of the industry was much slower. 25 years on, the way that technology has advanced has made everything so much quicker."
Is there one order that you are most proud of? "
There are a few orders that spring to mind……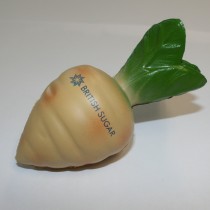 The finished product Last year we produced some bespoke stress sugar beets for British Sugar. Although this was an extremely challenging order with some supplier and design issues, after 22 months we managed to get there! We now have a product that we are very proud of. We have had very positive comments from our client and this is now a regular order.
We recently produced some powder caddies for Costa Coffee. This has been very different to any order I have done previously. Working with our sister company Hambleside Danelaw I have seen an initial idea turn into a design concept and then be manufactured into a finished product.
Another unusual order that springs to mind is an order I did for Woodpecker Cider for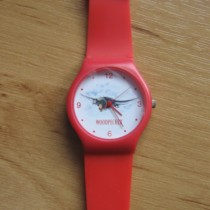 Duck Callers, floating action pens (where the ducks float up and down the pen) and watches. The promotional products were linked to a 1993 commercial called Woodpecker Cider – Ducks Revenge 'Where the hunter becomes the hunted that makes a refreshing change'.
http://www.youtube.com/watch?v=795VPliUH8k
"I am also very proud of the fact that I still work with four customers that I started working with 25 years ago!"
What are some of the greatest challenges you have faced?
"One of my greatest challenges has been an order for umbrellas that I had on a container ship which was sinking following a typhoon in the 1990's. This situation was completely out of my control, but I still managed to source an alternative umbrella, get new ones made and meet the client's delivery date. The client still has no idea that their initial umbrellas sank to the bottom of the ocean! That's what I call good customer service."
What do you enjoy about the merchandise industry?
"Every day is different. I can be sourcing an order for pens or producing bespoke sugar beets. The products are all so varied from USB's, bags, polo shirts, mugs, Rubik's cubes etc. I work with all different people from all different sectors. The industry is very enjoyable and every day is a different challenge".
What products have remained consistent over the 25 years?
"Mugs, pens, coasters, keyrings and sticky notes have remained firm favourites".
A few comments from people who have worked with Stuart over years:
"I have had the pleasure of working with Stuart throughout my career in the industry and have always found him to be a total professional but also a really great person. I have had the pleasure of working on lots of projects with Stuart and long may it continue! 25 years is a massive achievement and I just want to say Congratulations to him!" Cathy Anderson, Supplier.
"I have worked with Stuart for about 4 years now. He is a smashing chap, we hit it off very early in our business relationship. Although work comes first, he and I have grown into friends (he brings my kids rock back from his various holidays). I hope he has another glorious 25 years."
Shane Cook, Client.
"Never mind a congratulations on being in the industry 25 years – I think he deserves a medal for working with an office mainly full of women over all these years! I've worked with Stuart for 8 years now and there is never a dull moment with his "long story's short" The many tales of his bachelor holidays never fail to amuse! On a work note his enthusiasm and tenacity to see a project through to the end is second to none and it's a pleasure to work with him and also class him as a good friend." Clare Welch, Operations Manager Hambleside Merchandise.
Thank you for all your hard work!
I think the significant hair loss shown in the below 2 pictures tells the story well of what 25 years in the merchandise industry can do to you!