As the climate crisis becomes ever more serious, each Earth Day that is celebrated on the 22nd of April takes on extra significance. Established in 1970 in the US, the annual event brings together millions of people from around the world in support of the environment, highlighting the urgent action we need to take to save our planet. Each year, it's estimated that about a billion people participate in Earth Day in their own ways, big and small. That makes up about 15% of the world's population. This also makes Earth Day the largest secular celebration in the world. Earth Day is an important day for people to take time out of their busy lives to consider the impact that humanity has on the environment and for taking steps to minimize these impacts.
Let's talk water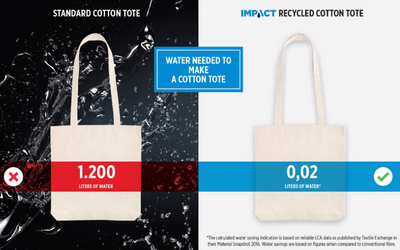 There are many reasons for climate change but today we want the address the water crisis. Water is a worldwide issue from the melting Arctic to dried outlands and the consequences are found all over the world. By 2025 50% of the world's population will experience so-called 'water stress'; Having to deal with a lack of sufficient and ready-to-use water. Water is a very tangible subject. According to a report by the World Economic Forum, the water crisis is the #5 global risk in terms of impact on society. 771 million people are living without access to safe water. Why? There are many reasons why there is a water crisis, here are a few: Water pollution, climate change, groundwater over-drafting, overuse and misuse of water, disease.
How can we help?
The theme for Earth Day 2022 is Invest in Our Planet – a call for governments, businesses, and individuals to invest in a better future for the planet. How can we do this? By using sustainable materials. The Impact collection is a line of products that aim to make an impact on the use of water and end greenwashing. By using recycled polyester and cotton we can make a positive impact on saving water. When using these recycled materials, we can save thousands of litres of water. But how can we be sure that we are using recycled materials and can validate our water-saving claims?
Aware tracers
With Aware, we guarantee the genuine used recycled fabric materials and the water impact reduction claim. Aware is a virtual component that can verify sustainable content in a final product by tracer technology and validates claims by blockchain technology.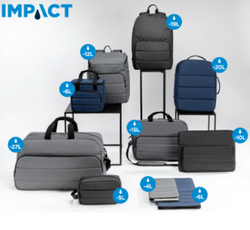 A simple promotional cap can contribute a saving of 387 litres of water when made from recycled materials. Little changes like this can have a great impact and if we all start making greener choices, we can reduce the use of water and relieve the stress of the water crisis. Why not check out the Impact range today by requesting more details from one of our merchandise advisors!
Demonstrate your brands' ethical values through all elements of your brand communications, right down to the finer details of your promotional merchandise.