The Brief
Viking Cruises were after a fun and good quality gift to celebrate the launch of their new ocean cruise 'In Search of the Northern Lights'  which offers cruisers a chance to see Norway's winter and witness snow-dusted landscapes, cities and the luminous aurora borealis in the sky. The gift would be used to give out to past guests at events and members of the travel trade.

Our Solution

The idea of a reindeer was put forward as they are such a huge part of the Norway experience. It was decided that a soft toy would fit the brief as it is fun and many of their guests have grandchildren who would love it! Various soft toy options were put forward before the final decision was made. The reindeer has been very popular and we are all very pleased with the finished product. We were excited to see the reindeer made a few appearances on social media and met our client's expectation.  They have also been used as prizes, and there is an ongoing competition open to travel agents to give him a name.
'The campaign has been very successful, and we have had lots of positive comments from guests and travel agents who think the reindeer's are really cute, and good fun, and it should help them to remember that Viking now visits the North of Norway. The reindeer's are great for promoting this product and also raising brand awareness', Viking Cruises.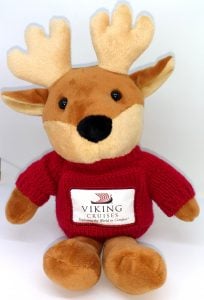 Viking Cruises branded soft toy 
Have you thought about using soft toys to promote your next campaign? Get in contact for a concept that could work for you.... Call: 023 9235 4960 Email: sales@hambleside.co.uk