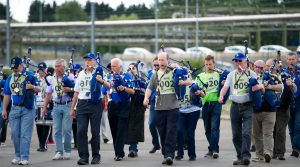 The pipers rehearse... and rehearse... and rehearse
Our Sales Director, Bill Copland, has had a taste of fame as his pipe band took part in the London 2012 Olympics Closing Ceremony.
The Reading Scottish Pipe Band, were very proud to be selected as one of the acts to support Eric Idle's rendition of Always Look on the Bright Side of Life from Monty Python's The Life of Brian at the Olympics Closing Ceremony on Sunday 12
th
August 2012. After lots of rehearsing the performance finally came together and Bill was proudly up there alongside the rest of the company, including his wife, to join in the celebrations.
The Reading Scottish Pipe Band take part in Eric Idle's performance at The London 2012 Closing Ceremony Bill commented, "It was a very surreal experience standing in the tunnel waiting to go on. I said hello to Annie Lennox and The Spice Girls, then before we knew it were surrounded by skating nuns and Roman soldiers in front of an audience larger than we could ever imagine. The noise was immense and everyone was singing along, the televised version just couldn't get across the atmosphere in the stadium." The stadium held 80,000 people and it was watched by a further 30 million just in the UK. The Hambleside Team were glued to their TVs, watching closely to try and spot Bill; he had given nothing away so we had no idea about what part of the ceremony he was involved in. We were delighted to see a brief glimpse of the band at about 10.45pm.